Mileage Registration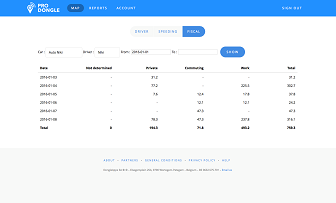 Mileage Registration
Via calendar, workhour and location algorithms ProDongle automatically qualifies the trips as work, home or commuting. The driver can always manually correct this.
ProDongle provides insight in the various types of mileages of your employees by means of clear tables which can be exported for further analysis.
Track & Trace
Knowing where your fleet is located allows you to plan more efficiently and to respond more flexibly to changing needs of your customers. The positions are tracked every 6 seconds and in real-time displayed on professional maps with satellite images and traffic information.
Trip & Time Registration
Driving times, mileages, working hours per employee and time on location are registered automatically. Our reports give you a detailed insight into the travel times, working hours and mileage administration of your fleet.
Driving Behavior
The amount of your insurance premiums, cost of repair and maintenance, tire wear and fuel consumption are determined by the driving behavior. ProDongle offers the tools to objectively analyse and improve the driving behavior of your employees. Safe driving leads to fewer accidents, incapacities for work and … improves your corporate image.
Cheaper Insurance
You install the ProDongle into the car and give us permission to share your driving score with the insurance company. Details such as location, time, specifics speeds, ... are not shared. You can stop sharing information at any time. Thanks to the SafetyStick insurance policy good driving behavior is rewarded with a cheaper car insurance.
Fleet Management
Immobilized vehicles not only cause annoyance but also weigh on the profitability of your business. Configurable alarms for mileages provide a maintenance reminder by email. Even at low battery voltage or in the majority of the engine failure codes, you will be notified immediately. Prevention is cheaper than cure!
Plug & Play
With its Plug & Play installation our ProDongle is unique in its kind. No cables and no installation, just plug it in the OBD port of the car or van. In order to combat fraud, unplugging and replugging of the ProDongle is reported immediately with mention of date, time and location.
Complete solution with no hidden costs
PanEuropean coverage with professional maps
Unlimited kms & users
2 years warranty
Helpdesk, software and map updates included
Accessible from any PC, smartphone and tablet
Own software, integration via API available
No installation costs